Who is online?
In total there is
0
user online :: 0 Registered, 0 Hidden and 0 Guests :: 1 Bot
None
Most users ever online was
35
on Sun Jul 21, 2013 3:43 pm
Current date/time is Wed Apr 16, 2014 8:18 pm
Elysium, a seemingly untouchable guild sits in the Sky Fortress Eterna very far above ground. Hours ago a single Mage broke through Elysium's defenses and launched an attack on it's members. Minutes later, Elysium had fallen. Hanging from the fortress, battered and broken, were the members of the guild. Their clothes were torn, steel spikes penetrated several places across their bodies, and in the center of the group was Tobi Endou, his lifeless body hanging from a broken neck. Over the next several days a dark aura began to envelope the Sky Fortress Eterna. A week later, the hanging bodies of the Elysium members mysteriously disappeared. The day after, flyers were hung up around town about a game called "Soul Carnival" that would be taking place at the Sky Fortress Eterna. Admission price was free, and all who entered would receive a free 100,000 jewels! These flyers were eventually strung up across the country, both Legal and Dark guilds were allowed to attend. At the bottom of the flyer in a fancy text read "The guild who can win the game will receive a hefty jewel sum of 5,000,000 jewels." A week after the flyers were placed around town, a large flight of stairs fell from the Sky Fortress Eterna, welcoming all to enter...if they dared.
General

Topics
Posts

Last Posts
Work Station

Topics
Posts

Last Posts
29 Topics
70 Posts
Serena mah charm...
Tue Aug 06, 2013 8:13 am
Crimzon

Here you can Create your own house,live with anyone you want to. You can post but this is a (WIP)

3 Topics
6 Posts
Shiro and Cresse...
Wed Jul 24, 2013 2:48 am
Crimzon
Magic Market

Topics
Posts

Last Posts
Mission Request

Topics
Posts

Last Posts
North Fiore

Topics
Posts

Last Posts
East Fiore

Topics
Posts

Last Posts
South Fiore

Topics
Posts

Last Posts
Magnolia Town is located on the southern most part of the country Fiore, it is also home to the Fairy Tail Guild. It has a population of 60,000 inhabitants and is a merchant city that has been prosperous in magic since the ancient era.

Fairy Tail Guild

12 Topics
98 Posts
Joining Fairy Ta...
Sat Dec 07, 2013 6:34 am
Yas Gaggii

Hargeon is one of Fiore's ports and also a beautiful old town, arranged at multiple levels, more prosperous of fishing then Magic, because only 10% of the people in the town can use it.

Like any port city, it has its own, a large marina, located in the southern part of town. There is also a nice park, with numerous benches and fountain.

1 Topics
24 Posts
The voice from t...
Wed Jul 10, 2013 2:48 pm
Little Miss RazorShock

Castelia City is a beautiful trade city that is home to some of the finest foods in all of Fiore. It is because of the many exotic foods that come that this place is popular to legal guilds and dark guilds alike.


2 Topics
17 Posts
Getting lost and...
Wed Jun 05, 2013 7:15 pm
Little Miss RazorShock
West Fiore

Topics
Posts

Last Posts
Central Fiore

Topics
Posts

Last Posts
Crocus is the capital of Fiore and the city where the king lives. It is also the place where the Grand Magic Games take place. Crocus resides in a vast valley surrounded by rocky mountains of small-to-mid height, housing mostly mildly prominent hills, and has a small river not far from it, with some isles in its largest part, flowing in a similarly small gorge, which has woodland on both of its sides, occupying the western zone of the valley.

2 Topics
4 Posts
The Hyuga Boys(A...
Mon Jun 03, 2013 4:58 pm
Shyis Tiaetai

Sky Fortress Eterna is a sky fortress located in the skies far above Central Fiore. It is said that a Guild know as Elysium reside in there, though nobody has ever seen them.


Elysium Guildhall

4 Topics
127 Posts
A Cure for Bored...
Wed Jul 17, 2013 7:50 pm
Elemental Lilly

Era is a large town, built around the high mountain located in the heart of the city. Before launching Etherion, on this mountain was headquarters of the highest authority in the world of magic - the Magic Council. As it turned out, the mountain did hide the earthly part of the activation mechanism of the Etherion itself.

1 Topics
6 Posts
The Converging S...
Fri Jul 19, 2013 3:07 pm
Yuiki
Wip don't Post here If you do all topics made will be deleted

2 Topics
17 Posts
Quarantine.
Thu Sep 05, 2013 9:32 am
Slade
Game Arena

Topics
Posts

Last Posts
The Safari Zone. This magical jungle is said to hold great treasure, items, and even money! Who knows, come here and test your luck! NOW OPEN!


28 Topics
2396 Posts
Sora's Safari Zo...
Wed Aug 07, 2013 4:32 am
Game Master
SPAM

Topics
Posts

Last Posts
Out of character here you almost do whatever you want to this is ooc world.The most important thing you can do in this world is practice fighting.

Graphic Tutorials

5 Topics
52 Posts
WTF WHERE ARE TH...
Fri Nov 08, 2013 8:33 pm
Ice bane

24 Topics
1416 Posts
Word Association...
Sun Aug 18, 2013 3:16 am
Chishiki

This is the place for advertisement for you site. If you want to affiliate with us here is the place where you can put a request.


First link

,

Link back

136 Topics
143 Posts
Perspectives [AU...
Tue Apr 15, 2014 4:29 pm
veronica404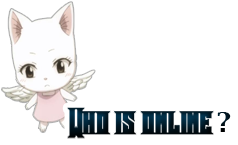 In total there is 0 user online :: 0 Registered, 0 Hidden and 0 Guests :: 1 Bot
Most users ever online was 35 on Sun Jul 21, 2013 3:43 pm

Registered Users: None
Bots : Google
Members connected during last 24 hours : Choomie

No users have a birthday today
No users are having a birthday in the upcoming 7 days

Legend : [ Laughing Coffin ] [ Fairy Tail ] [ Serenity Core ] [ Basilisk Gaze ] [ Valhalla ] [ Npc ] [ Guildless ] [ New Member ]
Our users have posted a total of 6355 messages
We have 162 registered users
The newest registered user is Choomie
New posts
No new posts
Forum is locked